---
SEIREI CHRISTOPHER UNIVERSITY (SCU) overview
We nurture students towards professional expertise in the areas of nursing, rehabilitation sciences and social work embracing the dignity of life and the philosophy of "Love Thy Neighbor".

Since its inception, based on the principles of SCU "Love Thy Neighbor" and "Dignity of Life", SCU has helped nurture professionals with not only the relevant knowledge and skills, but also with the passion for hands-on practice in the fields of healthcare and social. Philosophy and history, as well as the study of the underlying values of Seirei are compulsory areas of study for all students enrolled in the School of Nursing, the School of Rehabilitation Sciences and the School of Social Work.

With a view towards realizing their respective future professions, students initially pursue their studies in foundational courses before progressing on to more specialized courses. Students also learn the meaning, importance and means of achieving "Inter-Professional Working": a collaborative method for specialists in different fields to work as a team, while contributing the highest level of their specialty. Students are able to acquire practical skills through practice at Seirei's extensive network of facilities, which all share the same Christian values and provide optimal learning opportunities.

The ultimate educational objective of SCU is to develop students who will go on to become healthcare professionals and in turn, provide care through the lens of "Neighborly Love. We seek to achieve this while maintaining compassion for the pain of others. Seirei also seeks to develop students who have a passion for working alongside other healthcare and social work professions.

The origin of the name "Seirei" which means "holy servant" or "one who serves God" comes from the lesson delivered by Christ at the Last Supper. It is written in the Bible, John 13, that at the Last Supper, Christ poured water into a basin, then he washed the feet of his disciples. This was considered to be the work of slaves. After he finished, Christ told his disciples that they must wash one another's feet just as he did. He practiced his doctrine for his disciples.
THE MEANING OF THE SCU LOGO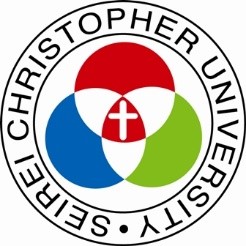 The outer doubled circles found in the Seirei symbol symbolizes such a basin used for washing feet. There are three colored circles in the center of the Seirei symbol. The red circle represents medicine, the green, welfare, and the blue, education. The cross found in the center of the three overlapping circles represents Christianity, the very basis of Seirei's philosophy. Everything at Seirei was started from the church. In 1980 Dr. Albert Atwell, who served at Seirei from 1978 to 1981, designed Seirei's symbol.